Michael A. Brenner, Class of 1970, age 68, of Harrisburg,
passed away Monday, December 14, 2020 at UPMC Harrisburg. He was born on May 12, 1952 in Harrisburg, to the late Robert and Francine Elsner Brenner. Michael was proud to be President and CEO of the Brenner Family of Dealerships, including Brenner Preowned of Mechanicsburg and five Brenner Car Credit locations, as well as countless other ventures within the community. Michael was a 1974 graduate of Syracuse University, where he majored in Marketing and Finance. He served on several local and national boards, as well as community projects, such as: United Way of the Capitol Region Capital Campaign (past chairman); The Legacy Bank of Harrisburg; Harrisburg Public School Foundation; CREDC Loan Committee (past chairman); The Endowment Fund of the United Jewish Community of Greater Harrisburg (past chairman); Career Advisory Council (Susquehanna Twp School District); Boys and Girls Club of Harrisburg; Jewish Home of Greater Harrisburg. Michael was a member of Temple Ohev Sholom, Temple Beth El, Chisuk Emuna Congregation in Harrisburg and Congregation Beth Or in Maple Glen, PA. He has received several notable honors, including: Time Magazine Quality Dealer of the year and a finalist for the prestigious Time Magazine Quality Dealer of the Year Award; National Endowment Achievement Award; Harrisburg Regional Chamber's Athena Award; Business Leader of the Year Award, City of Harrisburg; and many others. He was also very active with the interfaith organizations in the community as well as AIACPA. He is preceded in death by his brother, Eddie Brenner. Throughout his incredible life of achievement, Michael's accomplishments of which he was most proud are his three children whom he is survived by, two sons, Robert, Sam; his daughter, Jesse; his partner of many years, Dr. Varsha Shukla Lift and his sister, Barbra Brenner.

Amiyah R. Sherard, Class of 2021, age 19 of Harrisburg,
passed on Dec 9th, 2020. Amiyah was working with UPS as a package handler. She enjoyed spending time with her daughter; she was a dedicated fashionista, loved jewelry and music. She was an entrepreneur in her own right. Amiyah will be celebrated by her parents, Cedric (Tiffany) Sherard Jr, Kristie (Steve) Harfield, daughter Royalty Moore, her siblings; Rodesha Davis, Luodon Young, Deonte Harris, Keyondre Story, Kejuan Harris, Tre' Harfield and Cadence Sherard and a host of other relatives and friends.

Carol A. (Dissinger) Adkins, Class of 1963, age 74, formerly
of Harrisburg, passed away in Valrico, FL Wednesday, November 25, 2020. A native and long-time resident of the Harrisburg area, Carol graduated from Central Dauphin High School, worked 31 years as an administrative assistant for the State of Pennsylvania and part time for the K-Mart corporation for over 30 years. She relocated to Lakeland, Florida in 2018. She was the daughter of the late Byron and Joyce Dissinger and also preceded in death by a son Scott Adkins and brother David Dissinger. Surviving are her sons William Adkins (Susan) of Valrico, Florida and James Adkins of Lakeland, Florida; siblings Linda Doyle, Byron Dissinger, III (Sokhan), Judy Cassel (Tim), and Nancy Boyer (Joe); five grandchildren; and six great grandchildren.

Mary Ellen "Bunnie" Hershey Leitzell, Class of 1961, age
77, of Harrisburg, died Thursday, November 26, 2020 at UPMC Pinnacle Harrisburg Hospital. Mary Ellen was born in Harrisburg and was the daughter of the late Harry and Mary Hershey. She was a graduate of Central Dauphin HS Class of '61 and retired from Morehouse Publishing where she was a Customer Service Specialist. She was a member of the Rockville United Methodist Church, Hershey Regional AACA, Model A Restorer's Club and the American Legion Auxiliary Mary Ellen was predeceased by her daughter, Lori Ann Leitzell just 2 months ago. Mary Ellen is survived by her husband of 58 years, Leonard J. Leitzell; her son, Lenny (Tasey) Leitzell; her grandson, Austin (Bethany) Rhoads; her sister, Virginia (Earl) Black; her sister-in-law, Joyce (Dan) Hodson; several nieces and many lifelong friends. Because of COVID and delay in a service, I feel the need to express some thoughts about Mom but in a condensed version. I can't explain the hole this is leaving in not just the family's lives, but so many of her friends that were devastated by the news. The three most important things in her life were Faith, Family, & Friends and she was a "Prayer Warrior". She and Dad were Lori's caretakers for 50 years, and she always made sure Lori was included in everything, so she would have as normal life as possible. Everyone else came before herself. She could be stubborn, and Dad got a heavy dose of that. She had filing and storage systems that only she could understand, and after she passed, it took us 3 days to find dad's meds. She had a naive, yet devilish laugh that was contagious and an emotional side that created bonds with young and old. I have so much more to say and there are countless things we will all miss, but most of all I will miss my friend. If there is a positive, it's that she and Lori both got their wings and once again, heaven is a better place. Thank you for being part of her life.

Howard L. Kauffman, former Principal at CD, age 88, of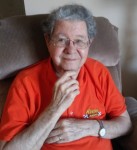 Messiah Village, Mechanicsburg, passed away Friday, November 20, 2020. Born May 18, 1932, in Lewistown, Mifflin County, he was a son of the late Howard and Cora (Kline) Kauffman. On December 15, 1956, he was united in marriage with Cena Tyson, with whom he shared a union of 62 years.
Howard's 30-year career in Education included 5 years as a teacher and 25 years as a principal in the elementary school system before retiring from the Central Dauphin School District. He served as a deacon for many years in a Harrisburg area Brethren in Christ Church, and went to Harlan, Kentucky on a mission trip. His interests included hunting, fishing, gardening, teaching Driver's Ed, and traveling to many U.S. states, Puerto Rico, Canada, Switzerland, Austria, Germany, and Africa. Howard felt that he learned many valuable things by listening to older people and he tried to pass them on to his children and grandchildren, who all live close by.
He is survived by children Howard D. (Cheryl) of Dillsburg, Lucinda (Dwayne) of Mechanicsburg, Daryl (Brenda) of Harrisburg, Laureen of Harrisburg, and seven grandchildren. In addition to his parents, he was preceded in death by his wife Cena, twin brother Harold, and sister Delores.


Hedy Hocker McKee, Class of 1959, of Daytona Beach, FL, passed away on October 25, 2020.

Larry Edward Bender, Class of 1961, age 77, of Lower Paxton Township passed away at his residence after a long challenging battle with PSC, a rare liver bile duct disease. Son of the late Mildred (Kelso) and Kenneth E. Bender. He married his teenage sweetheart, Beverly Jean (Clouser) Bender, on August 29, 1964. Survived by two sisters Tamara (Bender) Foltz and Marleen (Bender) Steele, several cousins, nieces, nephew, grandnieces and grandnephews. His grandfather Kelso was a country butcher and his grandfather Bender was a horse doctor. His great grandfather Kelso was one of the founders of Orrstown Bank. Born in Chambersburg, originally raised in Orrstown and later in Lower Paxton Township. He graduated from Central Dauphin High School, class of 1961. He graduated from farrier school at Cal Poly in San Luis Obispo, California and apprenticed as a farrier under Charles (Zimmie) Zimmerman of Linglestown. He was a member of the Charlton United Methodist Church and a long-time member of the American Farrier's Association. He was a highly respected and qualified farrier for 55 years, specializing in the American Saddlebred Show Horse, the Morgan Show Horse and the Hackney Show Horse and Pony. Several farriers apprenticed under his supervision. Larry was the official horse show farrier for the Devon Horse Show for 30 years, Pa. National Horse show for 35 years and for many years Children's Benefit Horse Show, Quentin Riding Club Horse Shows, Branchville Sussex County Horse Show, Lancaster Horse Show and Twin Brooks Riding Club Horse Shows (which he served as president when they purchased their show grounds). Larry was highly respected by the horse show community and trainers who never hesitated asking him to shoe their horses. Larry was a people person and was liked by those who knew or met him. He loved people, horses and dogs. Larry took great pride in watching his wife show their American Saddlebred Horses, Morgan Horses, and thoroughbred. In addition to his love for horses, Larry loved Doberman Pinchers and Pembroke Welsh Corgis and three special cats, Lucky Lady, Sprout and a special yellow cat – HVF Harry. Barn dogs and cats loved Larry and spent hours with him begging horse hoof, treats, love and attention. Larry relaxed fishing in the Chesapeake Bay with Captain Bobby Marshall, working in his garden and flower beds, collecting and restoring many different types of antiques, constructing wood projects, canning and cooking (being famous for his barbequed chicken and steaks prepared on his forge), designing and construction of silver and gold jewelry, doing special farm projects, cutting and chopping fire wood and watching his friend Dale Hammaker build and race 358 and 410 race cars for the Hammaker Racing Team. Larry will be sorely missed by all who knew him, but will always remain in their hearts and memories.
Theodore (Ted) Alan Traister, Class of 1977, age 60, of
Conestoga passed away peacefully at home on April 27, 2020. He was born February 9, 1960 in Bellefonte, a son of the late William and Beverly Way Traister. He was employed with Bindery Associates LLC as a forklift operator for over 32 years. Ted enjoyed fishing, keeping up with current events, time with family and friends and was a lifetime Minnesota Vikings fan.
Ted is survived by his wife Brenda Kay Potteiger Traister of Conestoga and son Kevin D. Traister of Mountville. In addition to his wife and son, Ted is survived by his brother Bill H. Traister, Jr (Kathy Ann) of Harrisburg, three sisters: Brenda L. Books of Blakeslee, Pam A. Mace (Gary) of Myerstown and Carrie L. Bell (Ray) of Hummelstown, and numerous nieces and nephews.
Wayne T. Pope, Class of 1963, age 75, of West Hanover
Township passed away peacefully at home, after a brief bout with cancer, on Monday, November 9, 2020. Born July 13, 1945 in Harrisburg, he was a son of the late John and Susanna E. (Aldinger) Pope and also was preceded in death by a grandson Kyle Kauffman and maternal grandmother Mary Haigh. He was a 1963 graduate of Central Dauphin High School. In his earlier years, he was an avid bowler and bowled on local leagues and many touring leagues. He retired from the former Colonial Pines Golden Age Home, Harrisburg. He was a Life Elder at the United Church of God, Harrisburg and was chairman of the Church Health Commission of the Eastern Regional Conference Churches of God. Wayne loved to sing and was part of the praise team at his church. He was strong in his faith and in spreading the word of God. He loved the outdoors and enjoyed doing crossword puzzles, but, most of all, he loved being with his family and friends. He was also famous for his New Year's Day pork and sauerkraut. He is survived by his loving wife of 39 years Kathryn J. (Slaughter) Pope; daughters Kelly Pope, Kathleen Ritter (Andy), and Meghan Butler (William); brother John C. Pope; sister Susanna E. Pope; and grandchildren Ericka Kauffman, Addison Ritter, and Ryan Butler.

Joan L. Lindemuth Felty, Class of 1963, of Lehman Twp, went
to be with our Lord on Sunday, November 8th, six days prior to her 75th birthday. She was the daughter of the late Norman and Marie (Dougherty) Lindemuth, Harrisburg. She is survived by her husband of 53 years, Wayne L. Felty; daughters, Colleen Reynolds (Bill) and Hope Felty; grandchildren, Matthew and Mikayla Reynolds; sister, Barbara Lindemuth of Harrisburg. Another sister, Betty Ulerick, of Harrisburg, passed away on November 3rd. She graduated from Central Dauphin High School, Harrisburg, took courses at Penn State/Wilkes-Barre and participated in numerous workshops and conferences on special education. Joan enjoyed cooking, perennial flowers, artwork and antiquing/refinishing. She was outgoing and willing to take on leadership roles. She was active in the Lehman United Methodist Church, PTA and Dallas Jr. Women's Club. She was a loving and nurturing mother. She pursued with a passion the best education and opportunities for her mentally disabled daughter, Hope, and advocated for others with disabilities in countless ways. She was active in the Association for Retarded Citizens (ARC) of Luzerne county (vice-president, treasurer, board member, education committee chair) and Luzerne Intermediate Unit's Task Force on Right to Education, chairing its classroom monitoring committee and Inclusion Council. She taught Sunday school class for special needs children at Huntsville Christian Church. At the state level she chaired the ARC/PA education committee, gave legislative testimony and served on the Dept of Education's special ed task force/integration committee.

Douglas Kenneth Troutman, Class of 1959, age 79 of Fountain, passed away on Sunday, October 25, 2020 at home. Doug was born on June 3, 1941 at Hershey Hospital, Hershey, PA. He was the son of the late Elvin and Mildred (Savidge) Troutman. Doug graduated in 1959 from Central Dauphin High School, Harrisburg, PA. He worked at the Hershey Creamery Dairy located on Cameron Street, Harrisburg while attending Lebanon Valley College. He later graduated with his Master's Degree in music education from the University of Michigan. Doug was a music teacher in the York School District after graduation from the University of Michigan and then taught music in an elementary school in Stamford, Connecticut retiring at the age of 55. He was an accomplished pianist and organist. Doug was one of the founding members of Men in Harmony, a central PA's premier Christian Men's Chorus, which began its music ministry in June of 2000, and he served the group as pianist for many years. Doug served on the board of the Mt. Gretna Bible Festival where he helped to organize the summer concert series. He was instrumental in inviting and arranging for many well-known composers to come and lead the Massed Choir of the Mt. Gretna Tabernacle Association, Inc. He served on the Board of the Gabriel Chamber Ensemble of Schuylkill County, and he enjoyed attending the New York Philharmonic concerts with his friends. Doug was a former member of the Derry Street United Methodist Church in Harrisburg where he served as organist, and was also a member of Christ United Church of Christ in Fountain where he played the piano and organ accompanying the church choir. Doug enjoyed traveling to many places here in the United States and visited many countries throughout Europe. Doug was a kind and generous person who shared his faith through his musical talents and time dedicated to the church and the various groups for which he volunteered. He will be missed by everyone who knew him. Among Doug's survivors are many cousins, and many friends who include Gerald Hawks, James Potter, and Linda Sult.

Betty Lindemuth Ulerick, Class of 1966, age 72, went to be with the Lord on Tuesday, November 3, 2020. Betty, also known to her friends as "Lindee" lived in the Harrisburg area and was the daughter of the late Norman W. and Marie (Dougherty) Lindemuth. She was a member of the Linglestown Church of God. Betty's entire career was with Bell Telephone and she retired early allowing her to enjoy her pool every summer with friends and family. She enjoyed singing and shared her beautiful soprano voice with local nursing home residents and in her church choir. She enjoyed playing cards with her friends and hosting dinners and holidays with her family and was close to her six godchildren. Betty is survived by her two sisters, Barbara Lindemuth of Harrisburg and Joan Felty of Shavertown; three nieces, Allison Eberle-Lindemuth of Middletown, Colleen Felty Reynolds of Dallas, and Hope Felty of Shavertown; local cousin Mary Jane Lindemuth Snyder of Highspire as well as cousins: Susan Comer, Edward Dougherty, Carol Maglione, Janice Provenzano, Kathy Richards, and Debbie Valese.

Richard (Rick) Care, Class of 1970, age 68, of Lower Paxton
Township, was called home to be with His Lord on Thursday, October 29, 2020. He was surrounded by his loving family. He was born on October 27, 1952 in Harrisburg to the late Joseph and Gwendolyn (Hood) Care. Richard was a Warehouse/Delivery Assistant with George D. Boyer & Sons, Inc. for many years. Prior to Boyer employment, he had his own Landscape business. He was a member of Harrisburg First Assembly of God. He enjoyed watching all sports, his favorites being the new England Patriots and the New York Yankees. He also enjoyed working out at Gold's Gym and sharing his faith while doing so. He was an avid and accomplished golfer. Richard possessed a great personality and enjoyed making people smile and laugh. He is survived by his loving wife, Tammy R. (Burke) Care, a sister, Deborah A. Boyer and her husband, Jeffrey, Sr. of Harrisburg, and a nephew, Jeffrey Boyer, Jr. He was preceded in death by his brother, David H. Care.

Timothy Michael Shovlin, Class of 1980, age 58, of Lower Paxton Township, Harrisburg, died Wednesday, October 28, 2020, at UPMC Community General Osteopathic Hospital, Lower Paxton Twp. He was a retired Regional Loss Prevention Manager for CVS Health; a Third-Degree Knight in the Knights of Columbus, Council 869; a member of the Enola Sportsman Club; a Son of the American Legion Post 272; a volunteer for Capitol Area Therapeutic Riding Association; and a dedicated youth sports coach for many years. Tim was a graduate of Penn State University. Born on July 10, 1962, in Harrisburg, he was the son of the late Cornelius J. and Betty L. (Myers) Shovlin. Surviving is his wife of 29 years, Cheryl A. (Ruble) Shovlin; sons and daughter, Tyler J. Shovlin (Kati) of Elkhorn, NE, Ashley E. Samoila (Alex) of Bozeman, MT, Thomas M. Shovlin (Sara) of Littleton, NH, and Michael E. Shovlin of Harrisburg; three grandchildren, Grayson, Kaiden, and Briar; brothers, Dr. Joseph Shovlin (Lisa) of Clarks Summit and Gary E. Shovlin (Jo Anna) of Hazleton; a niece, Erin, and two nephews, Ryan and Justin.

Thomas E. "Tom" Garrison, Class of 1979, age 59, of Lebanon, passed away on Thursday October 22, 2020 at WellSpan Good Samaritan Hospital.
Tom was born in Lebanon on February 7, 1961 to the late Glenn and Anita (Speck) Garrison. Tom received his Master's in Business Eduction. He was a US Navy Veteran. He was a member of Zion Lutheran Church in Lebanon, where he was involved with church council, call committee, and the church choir. He enjoyed playing games on the computer, working in the garden, and volunteering. He enjoyed helping others. Surviving is a significant other, Diane L. Martin, children, Shanyn Veteres, Pryce Garrison, Taylor Moreland, a brother Michael Garrison, a sister Debra Papa, and an Aunt Jenean Speck.

David Joseph Fowl, Class of 1967, age 71, passed away October 21, 2020. Son of John and Joan (Graybill) Fowl, twin brother to John Fowl, Jr.. He is predeceased by his parents and an uncle, Joe Fowl. He was co-owner of Susquehanna Valley Picture Corp. with his partner for 17 years. Born in Harrisburg, PA and moved to Florida in September 2017. Joe leaves behind his life partner and husband, Larry Therit, Jr.
It is with great pain and sadness that I announce the passing of my life partner and husband, Joe. We spent 39 wonderful years together as of last month. We just got married this past May 17th. We always told people that we had to make sure we liked each other before we committed. LOL We had many wonderful experience together. We have been to Hawaii, Cancun 3 times and we went on 9 gay cruises. Joe loved those the most. It was a place he could let his hair down (if he had any) He could be himself and have a good time. Joe was always one of the most stubborn people I ever knew. You were smart not to talk about religion or politics with Joe. Although some of our friends did it just to get a rise out of him.
It is sad to say, but Joe tested positive for Covid-19 on October 12th. Though he may have had some other health issues, I know that Covid is what caused his death. Please wear your mask. I won't say who I blame for this, but most of you know. Joe and I had a pretty good life together. It was always our dream to move here to Florida. That dream came true in September of 2017. He loved it here and this city mad him so happy. I can never express how much I loved Joe. And I know he loved me. He told me 20 times a day. It used to drive me crazy. I only wish I could hear these words again. I love you Joe and will miss you every day for the rest of my life. I hope all the people who knew and love Joed will keep him in their hearts.
John Rieser Pierce, Jr., Class of 1970, age 68, of Harrisburg,
PA, passed away on Saturday October 17, 2020, at his home.
Born on April 17, 1952 in Bridgeport, CT, he was the son of the late John and Jean (Thompson) Pierce.
John was a graduate of Central Dauphin High School in Harrisburg. Following high school, John received his Associates Degree from the Harrisburg Area Community College. He was a retired research engineer. John had lived in Pittsburgh for a few years and while living there he started and operated his own Limousine company.
He is survived by two sisters, Kim P. Breach and her husband Rick, of Camp Hill, PA; Lourie J. Zlogar and her husband Bob, of Harrisburg, PA; three nieces, Victoria Zlogar DeHart and her husband Shawn, of Boiling Springs, PA; Robyn Zlogar-Webb and her husband Michael, of Boynton Beach, FL; and Kristen Zlogar, of Middletown, PA; one nephews, Nathan Breach and his wife Julie, of Mechanicsburg, PA; two great-nieces, Kayla Breach and Alexa Breach, and seven great-nephews, Asher DeHart, Carter Breach, Lucas Webb, Atlas Webb, Owen Breach, Kadyn DeHart, and Brayden Webb.
In addition to his parents he was preceded in death by a nephew, Nicholas Breach.
Leroy Alfonso Moppin Jr., Class of 1958, resident of
Berrysburg, Pa passed on to his heavenly Father on Friday, October 16, 2020 in Camp Hill, Pa. Born in Harrisburg, Pa at the onset of WWII, October 6, 1939. A graduate of Albright College, he worked in the fields of chemistry, engineering and computer technologies at the Pentagon, Nasa and various other state departments. During his retirement years Leroy was involved in Ham Radio, enjoyed various types of international cuisine and worked at the Berrysburg post office. Predeceased by his loving mother Geraldine Farrar Gearhart (nee Jacobs), father, stepfather, son and three stepsons. Beloved by his wife Verna Rose, four daughters with spouses, stepson, grandchildren, great-grandchildren and friends. Roy encouraged us all by example to, "live our lives inspired." Now we all hope too!
John Edward "Hogie" Holgan Sr., Class of 1962, age 77, a
loving husband, father and "Pepaw" to his grandchildren and great-grandchild, passed away on October 9, 2020 at his home in Tallahassee with his wife by his side. He was born in Long Island, New York, to parents Edward and Doris Holgan who both pre-deceased him. John served proudly as a medic in the Air Force during the Vietnam War. After his military service, John eventually became a store manager for Neisner's Department Store which ultimately brought him and his family to call Tallahassee home in 1974. After the store's closure, John found joy in self-employment, running his very own sandwich shop, aptly named Hogie's Hoagies, as well as All-Brite Cleaning Service. John loved riding his Harley Davidson and watching NASCAR, even dabbling in a bit of racing himself in his younger years. He was an avid outdoorsman and enjoyed gardening, golfing, hunting and fishing - both freshwater and saltwater. He also enjoyed many indoor activities including billiards, bowling and darts - John was instrumental in starting the Tallahassee Darting Association to be enjoyed by many players over the years. More recently, John was ecstatic to have been able to make the trip to our nation's capital with other veterans as part of an Honor Flight. And of course, he loved his long neck Budweisers!
John is survived by his loving wife of 55 years, Sharon Holgan; children John Holgan Jr. (Allison), Eddie Holgan (Frances) and Wendy Holgan; grandchildren John Ervin, Hannah Holgan, Kelly Ervin, AJ Holgan, Kaleb Beane, Kyleighann Beane, Jack Holgan and Charlie Holgan; and great-grandchild Ryder Jennings with another one on the way.
Kevin E. Coyne, Class of 2000, age 39, of Harrisburg, passed
away on Monday, October 5, 2020 at his home. Kevin was born in Harrisburg, the beloved son of Wayne and Bessie Coyne. He was employed by NAVSUP WSS Mechanicsburg as a Crane Operator. He was also a member of Linglestown Fire Company. In addition to his parents, Kevin is survived by his long-time companion, Amanda Heisey and her children, Carter and Hailey Quiterio, his twin sister, Megan Coyne, his brother, Matthew Coyne, and his paternal grandmother, Irene Coyne. Kevin also had remarkably close ties to his aunts, uncles, cousins, nieces and nephews and had many dear friends. Kevin was a graduate of Central Dauphin High School, Class of 2000, where he ran cross-country and track. He loved sports, especially baseball, and was an avid fan of the Harrisburg Senators, World Series Champion Washington Nationals, and the Philadelphia Phillies, as well as Penn State Football. He loved the Senators so much his first job was working at Riverside Stadium on City Island for several years in high school. He also made numerous trips to South Williamsport, PA, to attend Little League World Series games. In addition to sports, Kevin enjoyed visiting other countries. He was an active member of a travelling group, making trips to Ireland, Iceland and Japan. Even when he couldn't make a trip, he would always be at the group's embarkation point to wish the travelers well and let them know he was with them in spirit. Kevin and Amanda also enjoyed cruising to various destinations. Kevin was a most kind, loving and generous person and was always happy to be there for his family and friends. He consistently put others before himself. He had a gift for making people feel special and was constantly cracking jokes to get everyone laughing. The world was a better place because Kevin was here. He will be sorely missed.
Jeff Vovakes, Class of 1971, left this world on October 1, 2020.
Retirement was so exciting for him. He was finally able to devote full attention to gardening, cooking and home renovation projects, things he loved.
Jeff was born in Philadelphia but grew up in Harrisburg, PA.
Jeff was the owner of Vermont Musical Instrument Repair in Middlesex. Established in 1985, VMIR was a full service facility repairing brass, woodwind, string and percussion instruments.
Jeff and Kevin Crossett founded Central Vermont Share the Music Inc. in 2005. It is a non-profit that holds an annual used instrument sale in Montpelier. It benefits the community and provides scholarships.
Jeff attended Western Iowa Tech Community College in the Band Instrument Repair Program, graduating in 1975.
Before moving to Vermont he spent eleven years in Dallas, Texas, managing the central repair facility, as well as repair services purchasing for Brook Mays Music Company, Inc.
A very important component of his life, Jeff was a Charter member and twice Past President of the National Association of Professional Band Instrument Repair Technicians, Inc. As a NAPBIRT Master Clinician, he presented repair clinics to other repair technicians throughout the United States. He also presented clinics for the Vermont Music Educators Association conferences, the National Association of School Music Dealers (NASMD) and other musician's organizations.
He will be greatly missed by his wife of 46 years. Brenda Vovakes. He is also survived by his two sisters, Jill Vovakes of Harrisburg, PA and Janice Magaro (husband David) of Middletown, PA. He has one niece, Jessica Martinez and three nephews, Ricardo Martinez, Dan Magaro and David Magaro.
He was predeceased by his parents, James and Arelene Vovakes.
Robert V. "Bob" Jostenski Jr., retired CDHS faculty
member, age 75, of Harrisburg passed away peacefully on Sunday, September 20, 2020 at the UPMC Hospital, Harrisburg. He was born in Liberal, Kansas on July 21, 1945 to the late Robert V. and Natalie "Swiontkowski" Jostenski Sr. Robert was a graduate of Millersville University where he received his Baccalaureate Degree and Penn State University where he received his Master's. Bob retired from Central Dauphin School District as a teacher and Coordinator of Libraries. He coached cross country and track for the school district. Robert also retired from Sears Department Store where he worked for many years and considered his employment there a second career. Bob was an avid Penn State Sports Fan especially when it came to football and basketball. He also enjoyed hunting, fishing, cruising, and was known as a cowboy at heart. Robert is survived by his wife, Dorene Ann "Stipe" Jostenski; one son, Derek Saxton (Jessica); one daughter, Stacey Schwartz (Edwin); Travis Walker (Diane); Susan Fultz (Nathan); five grandchildren, Austin, Loryn, Rylee, Finnian, Brynn: one brother, David B. Jostenski (Jean); one niece, Elizabeth (Zachary); two great nieces, Genevieve and Louise; many extended family and friends. Robert had a great love for his entire family and especially his loving grandchildren who affectionately called him "Pops".
Lori Ann Leitzell, Class of 1988, age 52 of Harrisburg, died
Sunday, September 27, 2020 at her home. Lori was a special soul that touched the lives of so many. Born in Harrisburg and was the daughter of Leonard and Mary Ellen Leitzell of Harrisburg. She was a member of Rockville United Methodist Church, Red Striker's Bowling Club and participated in Hershey Region AACA activities. She was a graduate of Central Dauphin High School, Class of '88. Lori is survived by in addition to her parents, her brother and sister-in-law, Lenny and Tasey Leitzell; numerous aunts, uncles, nephew, cousins many, many friends, and her cat Pippy.
Linda Kay Masterson, Class of 1964, passed away on
September 21, 2020. She was born June 2, 1946 to William and Alva Masterson in Harrisburg, Pennsylvania. She and her family lived in an apartment in downtown Harrisburg until she was 8 years old, when they moved to Colonial Park. She graduated from Central Dauphin High School in 1964 and went on to work for Wilborn Hosiery. It was there that she was trained in keypunching and met some lifelong friends. She went on to work for the business office of the Central Dauphin School District for a
short time, and then began her career at the Department of Revenue as a keypuncher. She worked there for 25 years before retiring in 1998, making many long-lasting friendships along the way. From 1989 until the early 2000's, she worked for BSC Litho in the evenings and weekends while supporting her
family. In her retirement, Linda enjoyed traveling and taking care of her kittens. In 2018, she moved to Colonial Park Care Center, where she was well-liked among the staff and made many more friends.
She is survived by her daughter, Miko Masterson of Silver Spring, Maryland, one brother, Calvin Masterson of Highspire, Pennsylvania, three nieces, Barbara (Paul) of New Cumberland, Pennsylvania, Melissa and Rosalie, two sisters-in-law, Shirley Masterson of Highspire, Pennsylvania and Eto Masterson
of Colorado, and family friends who are like family, Demian Akhan of New York, New York and Melissa
Watson of Gaithersburg, Maryland.
Jacquelyn L. Sanders Sweger, Class of 1959, age 79, of
Rutherford Heights passed away Friday, September 18, 2020 at her home. Jackie was born April 11, 1941 at Polyclinic Hospital in Harrisburg and was the daughter of the late Clarence F. Sanders Jr., and Mary Machan Sanders. She was a member of the Trinity Evangelical Congregational Church of Rutherford. She attended school at Harris Park Elementary, Rutherford Elementary, Swatara Jr. High School, and graduated from Central Dauphin High with Honors in 1959. Her high school activities included chorus, Choral Trio, CD Dauphinettes, and Basketball. She is a member of the Central Dauphin Basketball Hall of Fame. After graduation she worked for the law firm of Nauman, Smith, Shissler & Hall in Harrisburg as a Legal Secretary. She was a homemaker for over 55 years. She then became a notary and worked part time at the Keystone Auto Auction and Harrisburg Auto Auction. She also worked at the primary and general election polls for over 40 years. She loved spending time with her children, Daryl and Jadee as well as their friends, and she cherished the time that she spent with her grandchildren. Her leisure activities over the years included spending time at her cottage on Silver Lake in Lewisberry, Bowling, Card Club, Crossword Puzzles, watching Penn State and Oakland Raiders Football, and watching the New York Yankees on TV. She attended Sporting activities of her grandchildren, and enjoyed watched cooking and game shows. She loved to cook for her family, and her favorite meal to prepare was New Year's Day sauerkraut dinner. Jackie also enjoyed her annual family summer vacation to Ocean City, Maryland. She travelled with her husband to regional casinos, taking trips to Las Vegas, and went on a yearly winter get away to the Camelback Inn at Scottsdale, Arizona. She was the beloved wife of husband Daryl Sweger for 57 years. Jackie was a loving mother of her son, Daryl Sweger Jr., and her daughter Jadee Gochenaur. Also surviving are Daryl Jr's. wife Mary Rose, and Jadee's husband, Glenn, and her grandchildren Erik Hosler, Erin Hosler, Olivia Sweger, Laura Sweger and Carlee Gochenaur.
James "Jimmy" L. Geyer, Jr., Class of 1968, passed away on
September 15, 2020 at Lebanon VA Medical Center. He was born Mar 28, 1949 to the late James L. Sr. and Mary (Durborow) Geyer. He was a 1968 graduate of Central Dauphin High School. Jimmy was a U. S. Army disabled veteran of the Vietnam War. He is survived by his sister, Paula Geyer; nephews and nieces, H. Matthew (Tammy), Philip (Donna), Angela Evans and Michelle Savaglio. He was predeceased by a brother, Daniel and sister, Deborah. A private Memorial Service is planned for a later date. The family wishes to express their gratitude to the staff of 14A of the VA Medical Center for the loving care Jimmy received. Jimmy was a sweet and gentle soul. Rest easy brother.
William "Bill" Hess, Class of 1969, died peacefully at home on
Saturday, Sept. 12, 2020 in Alexandria, LA. A celebration of his life will take place at St. James Episcopal Church on Saturday, Sept. 26 at 11:00 AM. Born in Harrisburg, PA on June 24, 1951 to Marguerite Chickini Hess and George Meldon Hess, Bill graduated from Central Dauphin High School in 1969. He began his career in local government as the Director of Parks and Recreation for the City of Harrisburg, and later retired in government after serving 12 years as a mayoral assistant for the City of Alexandria. He is survived by his wife, Anne "Bobbi" Hess, of 18 years, his two daughters Amy Hess of Collingswood, NJ (Kemper), and Lisa Heister of Fallston, MD (Brian), and his five grandchildren, Aidan, Sydney, Owen, Jack, and Margot, and two stepchildren Spencer and Meghann. Bill is also survived by his brother Gregory G. Hess of Palmyra, PA, and his spouse Donita, his nephew Derek Hess, and nieces Nicole Hess Diestler and Molly Hess Knox.
Jacob J. Stoss Jr., Class of 1965, age 73, of Marysville, died Saturday, September 12, 2020 in his home. Jacob was a retired Chief of Police for the Marysville Police Department and had been a karate instructor for many years. He is survived by one sister, Carolyn Hollern, Wyndmoor; one brother, Michael Stoss, Harrisburg; and several nieces and nephews.
Nancy Jean Plusquellic Allen, Class of 1959, daughter of
Frank Plusquellic and Ethel Viola Glenn, born March 23, 1941 in Indiana, PA, died peacefully at home in Lenexa, Kansas, Tuesday, September 1, 2020 from causes incident to Parkinson's syndrome. Nancy was a long-time resident of Gambrills MD. She is survived by her husband, Ronald Dean Allen, a daughter, Jennifer Miller, and two sons, Aaron Dean Allen and Ian Woodruff Allen. Nancy graduated from Central Dauphin High School in Harrisburg PA; from Alderson Broaddus College in Phillipi WV with a BA in nursing and from Syracuse University with an MS in Nursing Education. After raising a family, she returned to nursing as a clinical instructor for Howard County Community College and served as a shift supervisor over the Howard County General Hospital in Columbia Maryland. She was inducted into Sigma Theta Tau, the Nursing Honor Society and was active in the leadership of the Maryland Nurses Association, serving on the Ethics Panel. She was a long-time leader of youth in the LDS Church's Young Women Association and the Boy Scouts of America, serving many years as a leader and camp nurse in the camping program for the young women. She earned her Wood Badge beads and was given the District Award of Merit by the Four Rivers District of the BSA for her service to youth. Nancy was skilled in and loved handcrafts of all types; Knitting, Crocheting, sewing, needlepoint, cake decorating, art and piano until Parkinson's disease robbed her of those faculties.
Valerie Graybill Harte, Class of 1977, of Harrisburg, PA
passed away Friday September 4, 2020 at Carolyn's House (Hospice) in Harrisburg, PA. Valerie was born July 8, 1959 in Harrisburg, PA to Richard M. and Eleanor (Hoffman) Graybill. Valerie was predeceased by her husband Stephen F. Snow of Harrisburg, PA. She is survived by her Husband, Paul Harte of Harrisburg, PA. Her daughter, Shannon Snow (Sites) and husband Scott of Middletown, PA. Daughter, Amy (Snow) Swank and her husband Justin of Harrisburg, PA. Valerie has one grandson, Ian Swank and a granddaughter, Addyson Swank of Harrisburg, PA. Stepson Justin Harte and his wife Carly of Raleigh, North Carolina and their daughter Skylar Harte. Valerie has two siblings. Her brother, Douglas Graybill and his wife Cheryl of Mechanicsburg, PA. Sister, Victoria (Graybill) Harte and her husband Eric of Dillsburg, PA. Valerie is also survived by 4 nephews and 2 nieces. Valerie also has 2 great nephews. Valerie was a graduate of Central Dauphin High School Class of 1977. She was employed by the Commonwealth of Pennsylvania for 22 years as an analyst in the department of Public Welfare.
Charles E. "Sut" Wevodau III, Class of 1962, age 76, of
Paxtang, passed suddenly on Saturday, August 29, 2020 at Logan Gap Hunting Camp, Centre Hall, PA. He was born on May 6, 1944 in Harrisburg, son of the late Charles and Elizabeth Wevodau. He was a graduate of Central Dauphin High School Class of 1962. He was a Mason by trade. Sut's greatest joys in life were spending time with his grandchildren, his family, time at hunting camp, Raystown Lake, golfing, and hunting. In his earlier years he played baseball, softball, football, basketball, and was a bronze medalist in the Senior Olympics in volleyball. He is survived by his loving wife of 56 years, Joanne (Branoff) Wevodau; two daughters, Andrea Cauffman and husband David of Blain and Beth Touloumes of New Oxford; four grandchildren, Jade and wife Katie, Taylor, Nikolas, and Alexis; three brothers, Larry and wife Carol, Bruce and wife Sue, and Jeff Wevodau. He is also survived by numerous nieces and nephews and great nieces and nephews, whom he loved very much.
Ronald Leroy Smith, Class of 1964, age 74, of Harrisburg, entered into eternal rest on May 8th, 2020, at home. He was born on February 12th, 1946, in Harrisburg to the late Thomas W. Smith and Mary (Gingrich) Smith. He was a U. S. Army veteran and was retired from the Defense Logistics Agency, New Cumberland Depot, with 30 years of service. He was very active with Alcoholics Anonymous for many years. He enjoyed computers and his family. Surviving are a brother Thomas W. Jr., (Brenda), a niece Kris Barge (Larry), and their children, Alexis and Brendan all of Hummelstown; a nephew Thomas G. Smith (Kim) and son Chase all of Hummelstown.
Donald James Butler, Jr., Class of 1962, age 76 of Davenport,
FL passed away on August 17 at his home. Born in Harrisburg, PA he was the son of the late Donald J. Butler, Sr. and G. Eleanor Poole Butler. He is survived by his companion Sondra Nelson, a daughter Tami J. Butler-Cassel, a son David A. Butler (Melinda), a sister Vivian Lee Butler-Anderson, a brother Michael A. Butler, stepchildren James L. Sundy and Sherry R. Ju, as well as numerous grandchildren, nieces and nephews. He was preceded in death by his wife, Helen H. Butler. Donald graduated from Central Dauphin High School and received his Bachelor of Arts degree from Penn State University. He was employed as a Harrisburg City Police Officer, a Corporal with the Swatara Township Police Department, and a Law Enforcement educator at Cumberland Perry Area Vocational Technical School in PA. He was a Dedicated Case Management Counselor and retired as a Juvenile Probation Officer of Polk County, FL. Donald was a Red Cross Aquatics Director and earned the highest merit of Eagle Scout with the Boy Scouts of America, Troop #42 Harrisburg-Lawnton, PA. He had a strong passion for travel and had taken more than 30 cruises, and was a Diamond member of Royal Caribbean Cruises. Donald was a Freemason and was awarded the 50 Year Masonic Service Emblem from the R.W. Grand Lodge of Free and Accepted Masons of PA. He was a member and Past Master of Masonic Blue Lodge #629 in PA. He was Past Grand Tall Cedar, Harrisburg Forest #43. He was also a member of The Shriners and the Oriental Band in PA. He was a 35-year FL York Rite member, Past High Priest, Past Illustrious Master, and Past Commander of the local bodies. He served as Governor of Pentagon York Rite College. He received the Order of the Purple Cross for his dedication to Masonry. He also served as Sovereign Secretary and Secretary of the Allied Masonic Degree in Winter Haven, FL #115. Donald was active in the Eastern Star and was currently serving as Worthy Patron, and was Past Patron for Winter Haven Chapter #74. He was a member of Knight York Cross of Honor in Orlando. He played a large part of the Super Excellent Master Degree held annually in FL. He served as Grand Marshall of the Grand Council of Royal and Select Masters in 2016; one of the many highlights of his Masonic journey. He was a member of the First Baptist Church of Harrisburg and the West Shore Baptist Church of Camp Hill, PA. Donald was also a member of NorthRidge Church in Haines City, and attended the First Baptist Church of Orlando, FL.